Wood Fill Options
Wood Fill Options
Classic Equine Equipment keeps in stock premium imported hardwood and Southern Yellow Pine. Our Brazilian hardwood is 1″ thick and comes in 12″ increments from 4′ to 12′. A true hardwood, it is very dense and extremely durable. Although no wood can be considered "horse-proof", the strength of this wood is exceptional.
Our Southern Yellow Pine comes in 2″ x 8″ x 12′ lengths. It is #1 or better premium wood – no warping, stains, or discolorations. Although not as dense as the hardwood, Southern Yellow Pine is the strongest of the "softwoods" and is a very popular choice for use in horse stalls. Both woods are tongue and groove with a v-notch on the face.
Other wood options, including Oak and Ash, are available upon request.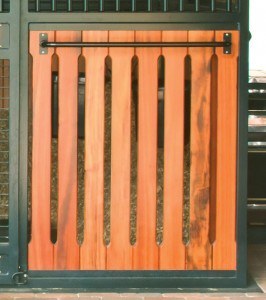 Venting (as shown here) is an option for either our hardwood or pine. This allows for additional airflow without sacrificing the look of wood.
NEW! HDPE Wood Alternative!
Classic is going 'Green' with an alternative to wood – High Density Polyethylene (HDPE) lumber. HDPE uses primarily recycled postconsumer plastic with a positive environmental impact to create a long lasting, no maintenance, and weather resistant material. HDPE is UV resistant, is easy to maintain, and does not require staining. HDPE is a great choice for horse foaling stalls (easy to disinfect), and wash stalls.

Below are the color options for the HDPE Fill