Horse Exercisers | Classic Equine Equipment
Exercisers
Keep your horses in peak health and performance.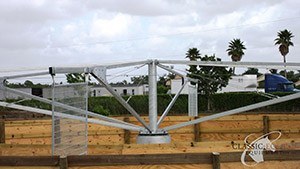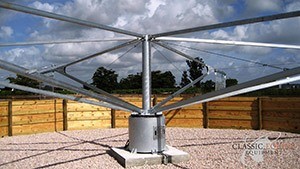 Optional Programmable Touch Panel Controls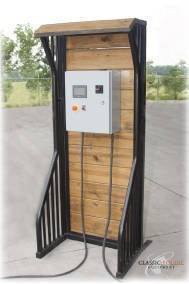 User may program up to 15 different routines, each routine allows for 12 different steps, each step has a speed and a direction. Controller includes a manual override emergency shutoff.
Classic Equine Equipment offers the Ultraciser®, a free run automated equine exerciser. This unit allows for one person to exercise up to eight horses at a time. Create your own custom routines to match your horse's age, condition and fitness goals. Watch your horses gain and maintain top conditioning and optimum health.
Specifications
Overall Diameter: 45' – 80'Horses: 4 – 8Height: 9'-2" (2.75 meters)
Base Diameter: 3'-8" (.91 meters)
Motor Voltage: 220 volt, single phase
Motor Output: 2, 3 or 5 horsepower, depending on size of machine
Speed: Up to 20 m.p.h.
Bearing: 2.8 ton axle load
Warranty: Steel structure – 10 years, Drive system – 3 years (5 years extended), Control box electrical components – 2 years limited
Equine Health Benefits from the Ultraciser
Exercise is critical to your horse's physical development and good health. A regular, structured exercise routine encourages the proper development of bones, tendons and ligaments, increases stamina and heart function, and gives horses an outlet for their energy, particularly if they spend long hours in their stalls.
Why choose an Ultraciser Horse Exerciser?
At Classic, we have always been proud to be the leading manufacturer of quality stall systems. We have applied the same attention to detail to make the Ultraciser® your premier choice in free run horse exercisers. Each unit is custom made to your specifications, from 4 – 8 horses and 45' to 80' diameter. Some of the many upgrades over our competitors include:
Elegant design for safety, strength, durability and ease of installation
Most rigid base and tower assembly in the industry
Fully enclosed electrical components
Maintenance-free hot dip galvanized steel structure (Powder coating optional)
Best warranty in the industry
Touchscreen control panel (optional)
Integrated watering system (optional)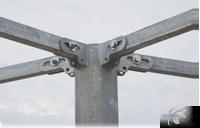 8 1/2″ diameter steel tower, made from 1/2″ steel pipe. Brackets are fully welded into place and slotted for easy assembly.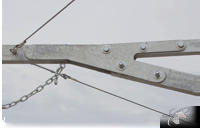 Welded yoke design provides superior strength and allows for easy installation. 2" x 3" and 2" x 4" structural steel tube is used for all crossmembers.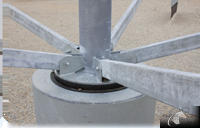 Fully welded 36" base is made from 3/8" steel pipe. The 26" turntable style German bearing rests between the tower and base.